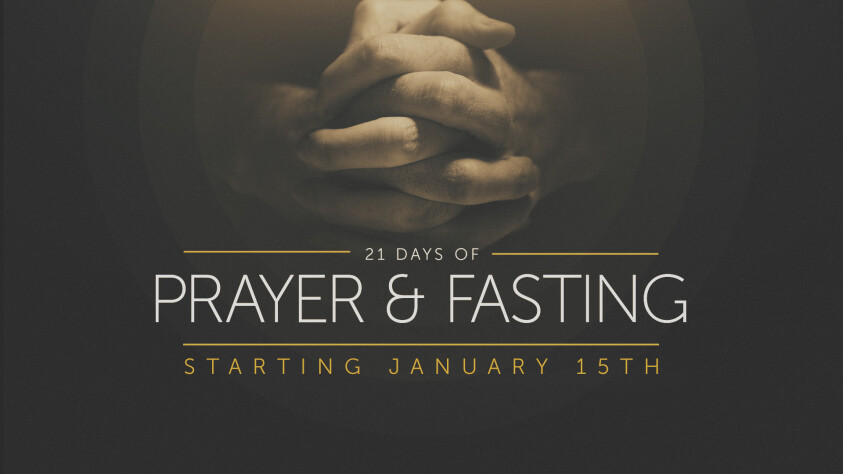 ---
LINKS TO RESOURCES
---
Week 1 Study Guide. Week 2 Study Guide Daniel Fasting Recipe Book
---
PRAYER GUIDE
---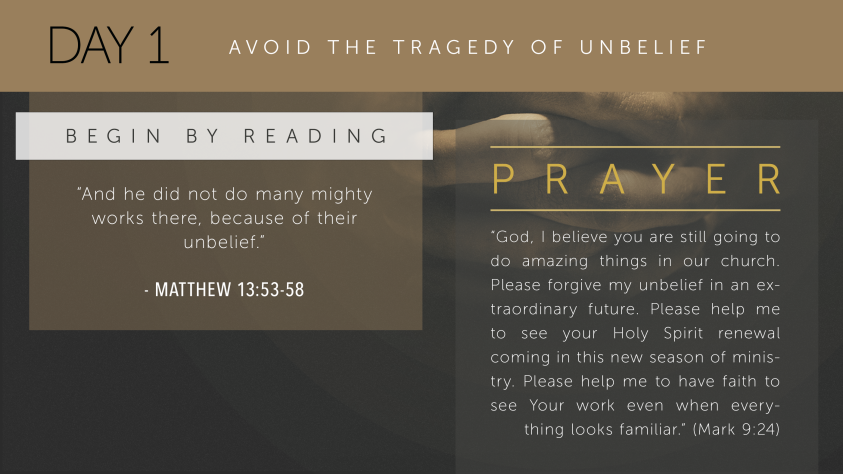 What a sad verse. It comes from the story of Jesus attempting to do ministry in his home town, among the people who knew him best. As he did ministry, they were amazed at his teaching and power. However, their amazement did not lead to faith. They couldn't believe that God could do something extraordinary with someone so familiar to them. Jesus could have changed their lives. He could have changed the town. Unfortunately, nothing really changed. They expected the status quo, and that's exactly what they got.
Lack of faith shuts us off from Jesus' power to bring about change in our lives. Faith opens up the floodgates of the power of God. Jesus' ministry almost always included great miracles of his blessing, but those miracles were done when the people had faith. (Matthew 9:2; 9:22; 15:28; Mark 10:52; Luke 8:48)
When Jesus looks at our lives what does he see? Does He see a faith that expects him to act in our midst? Do I believe that Jesus CAN step into the routine and ordinary and familiar of our church and bring great things through transition? Do I believe He WILL? Am I praying for God to do a new work in our church?
____________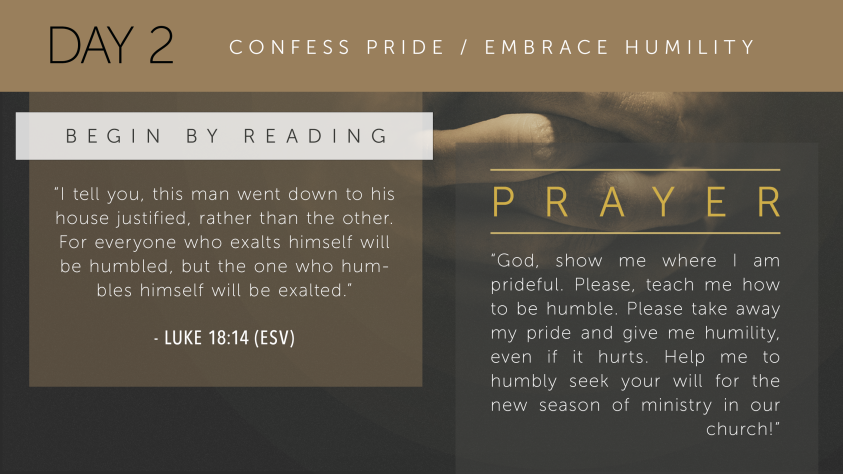 Pride is sin, plain and simple. We don't often recognize it in ourselves easily. Knowing our propensity towards pride, Jesus shared this parable, contrasting a prideful religious man with a humble sinner. The Pharisee is the example of the prideful person, the tax collector is the example of the humble person.
Prideful people refuse to see their need for forgiveness. The Pharisee never admitted he had any need. He only saw all the "good" things he had done. His focus was upon himself. Humble people are desperate for help. The tax collector beat his chest and admitted he needed forgiveness from his sins. He knew he was not righteous.
Pride looks down at other people's sin. The Pharisee said, "I thank you that I am not like those rotten sinners." Humility sees its own wickedness. The tax collector declared, "God turn your wrath from me, a sinner."
The prideful's biggest concern is "What do people think about me?" The humble's biggest concern is "What does God think about me?"
____________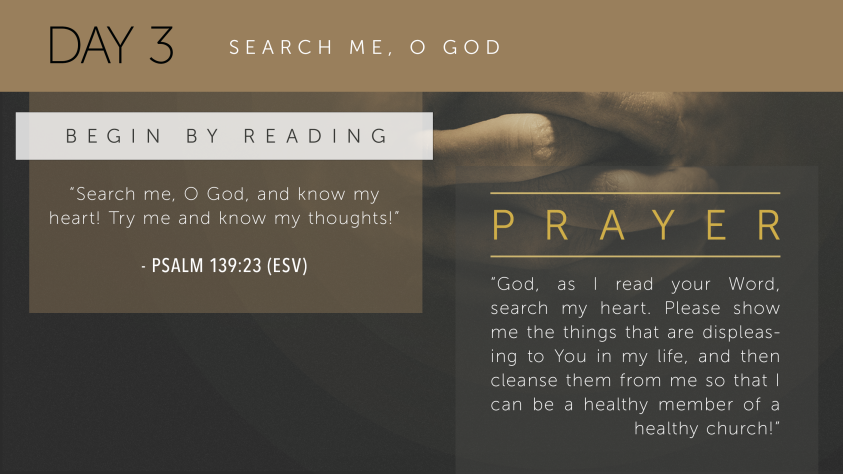 It's one thing to pray for nice things like a boat or a vacation. It's another to ask the all-knowing God of the universe to search our thoughts and hearts. We know from the Bible that God is omniscient, omnipotent, and omnipresent. He knows us better than anyone else. We have yet to surprise him.
Doctors tell us we need an annual check up. Early detection is key in everything from tooth decay to cancer. Spiritual health is no different. Therefore, being healthy spiritually necessitates regular exams as well.
We examine ourselves spiritually by planning a time to be away from distractions and seeking the Lord. We need to be alone with the One who knows things we don't even know about ourselves. We prayerfully read His Word and ask Him to search our hearts and attitudes. Is Jesus my first love? Am I just going through the motions at church? Do I truly love the people of our church? Is there temptation that I am entertaining, giving the Devil a foothold in my life? Personal spiritual health leads to church health.
How long has it been since your last spiritual examination?
____________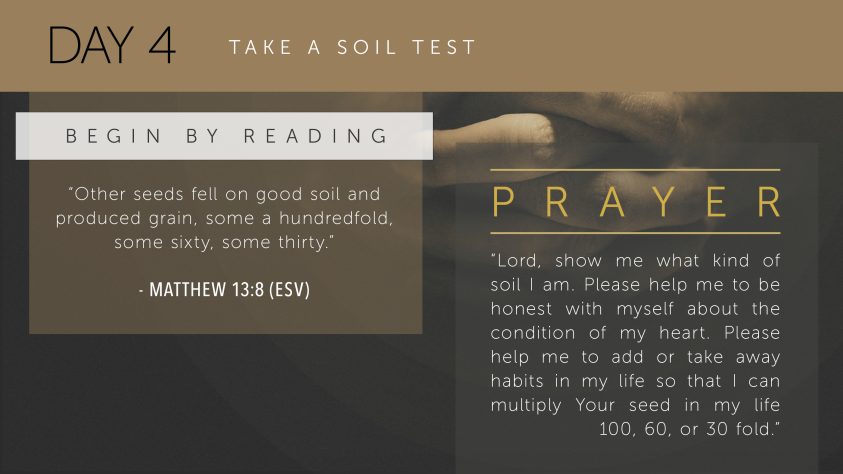 What kind of soil is my heart like?
Packed dirt of the Path: Did Satan take away the Gospel before I ever really understood and embraced it? Am I just living a life of Christian rituals or am I truly born again? Did the Gospel (of my sinfulness triumphed by Jesus' death, burial, and resurrection,) ever actually penetrate my heart?
Rocky Ground: Do I have the spiritual depth to stand under persecution? The Enemy hates us and wants to destroy us, is my faith ready for the coming attacks?
Thorny Ground: Do I allow the activities and pleasure of our culture to choke out my faith? Am I more concerned with earthly worries than with the advancement of the Kingdom?
Rich Soil: What needs to be added or removed from my life, so that I can be that kind of soil that produces 100, 60, or 30 fold?
____________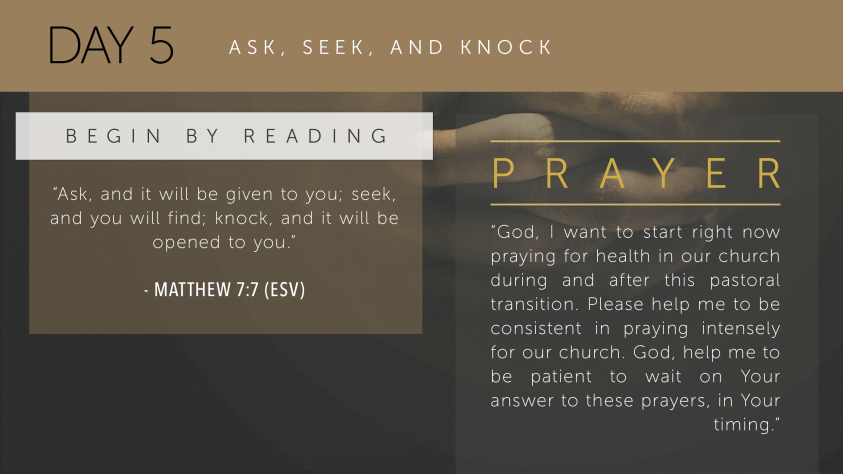 God loves to answer the fervent prayers of His children, and calls us to pray according to His will via His word. We know that God's will for His church is to be healthy. Are we praying for God to work among us to make His church healthy as we prepare for our next pastor?
The story is told that a mother coated her face with a skincare product. Her daughter asked, "Why are you putting that on your face?" Mom replied, "To make myself beautiful." A few minutes later, as the mom was wiping away the cream, the daughter asked, "Are you giving up already?"
We should never give up asking God to strengthen our churches and prepare us for what He is about to do! One way or the other God will bring His Kingdom on earth as it is in heaven. We should pray over and over again until the answer comes.
Do I pray consistently with intensity for our church to grow and glorify God? Whatever else we do, we can not stop praying for God to be at work in our church. Ask, seek, and knock!
____________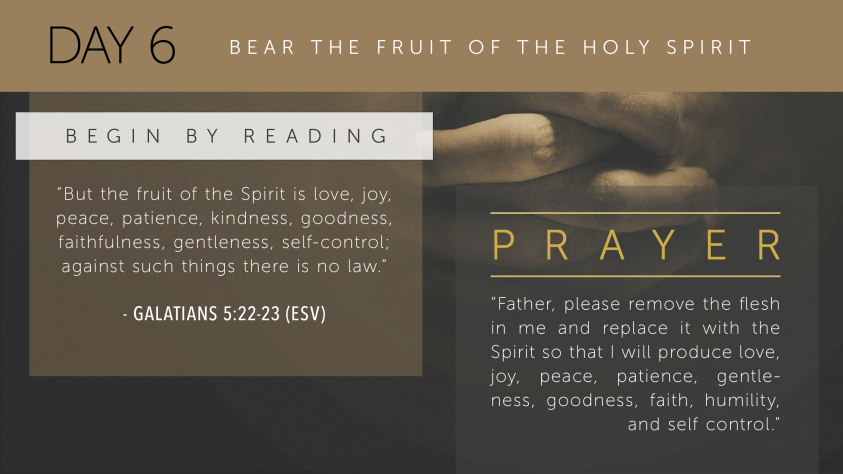 Our flesh is in constant battle with the Spirit. Our natural state is living by the flesh, but vs 25 encourages us to "live by the Spirit" and "follow the Spirit." If we look at our lives do we see the "fruit" that is supernaturally growing from the seed of the Holy Spirit inside of us?
If we watch an apple tree, we will see apples naturally growing out of the tree. It's in the nature of the apple tree to produce apples. When the Holy Spirit is inside of us, His fruit naturally comes out of us. It becomes our nature to produce spiritual fruit.
When the Holy Spirit is NOT in control of our lives, the flesh naturally produces unloving, joyless, restless, impatient, unkind, and out of control behavior.
I need to ask myself: if the person who knows me best used the qualities in vs 22-23 as a checklist, what words would they choose to describe me? Would they describe me as loving? Do I have joy? Am I a patient person? Am I kind to others even when I have nothing to gain or nothing to lose?
____________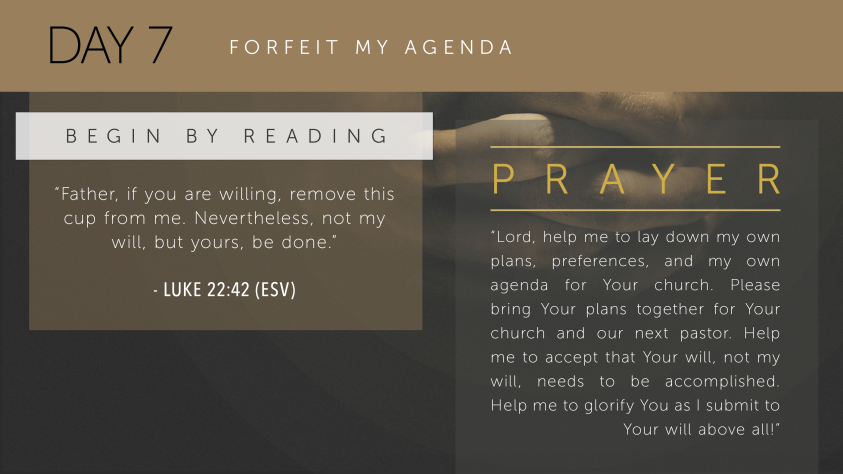 Jesus was fully God and fully human. As Jesus looked toward His near suffering and death, the desires of His humanity were held in tension with the will of the Father. Jesus knew that hours later He would bear the wrath of God for all of humanity's sin. The Bible describes it like this, "For he made him to be sin for us, who knew no sin; that we might be made the righteousness of God in him." (2 Corinthians 5:21)
Jesus was so emotionally distraught in the Garden of Gethsemane, that when he prayed, "His sweat was as drops of blood falling to the ground." (Luke 22:44) On the one hand, He was begging the Father to remove this bitter cup of suffering from Him. On the other hand, He understood that suffering and death were necessary for the salvation of humanity from the wrath we deserved. Jesus was more committed to God's plan than his own comfort. Therefore He prayed, "Not my will but yours be done."
Above all else Jesus was committed to doing the will of the Father.
____________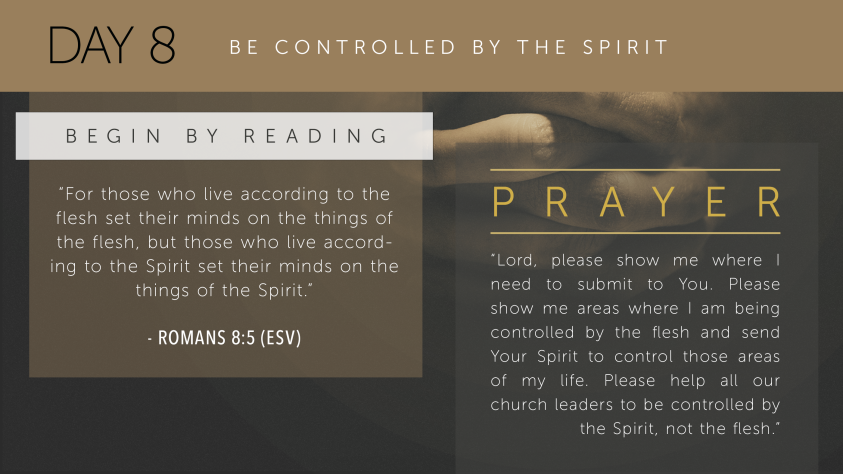 My parents have a remote control that will operate the television, the DVD, and the satellite dish. The problem is that my parents don't understand the buttons at the top of the remote that determine which device the remote is operating. My dad called one day frustrated because the remote was "talking to" the DVD player instead of the satellite and my mother was missing her favorite show. My son had stayed at their house and changed the remote, so he could watch a DVD, but my parents needed help to change it back.
Romans 8:5 teaches that we are controlled by our sinful desires. Our very nature as humans is fallen and sinful. It also tells us that we can be controlled by the Spirit, and then respond in a supernatural way. Our behavior as we respond to various situations reveals if we are being controlled by the Spirit or the flesh.
We must choose which will control us, the Spirit or the flesh. If we do not choose the Spirit, then we will naturally default to the flesh. In our relationships, including our church relationships, we often speak before we think, and then we end up making a choice according to the flesh, not the Spirit.
____________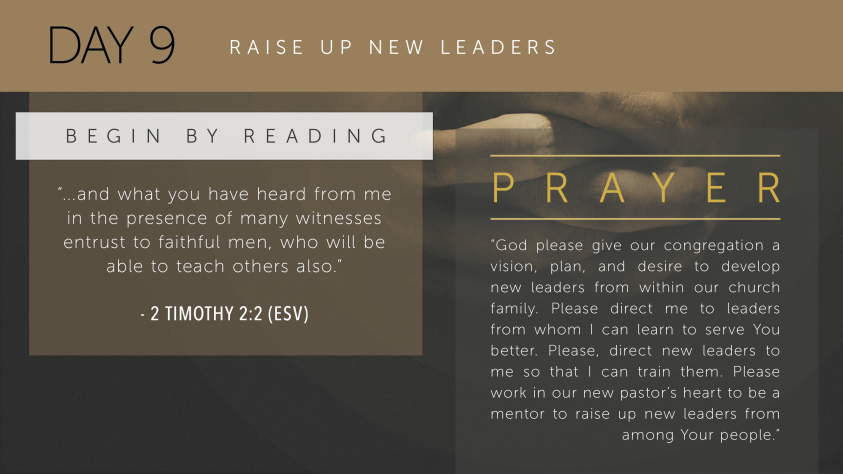 A common challenge every church faces is raising up new leaders. Whether needed for children, youth, outreach, Bible study, music, etc... you will find a shortage of leaders. How can we find these leaders that we need? We can hope someone moves into our area or leaves their church to come to ours, but then another church loses a leader that we gain.
Paul lays out a pathway for Timothy to raise up leaders. Christian leaders are made, not born. 2 Timothy 2:1-2 tells us how to multiply new leaders. A mature Christian (Paul) trains a young leader (Timothy), who will then train faithful people, who will then train others. That makes a total of 4 generations of leaders.
Am I willing to personally train a leader for a church position that I know how to do? Am I willing to be trained in a position that I currently don't know how to do?
____________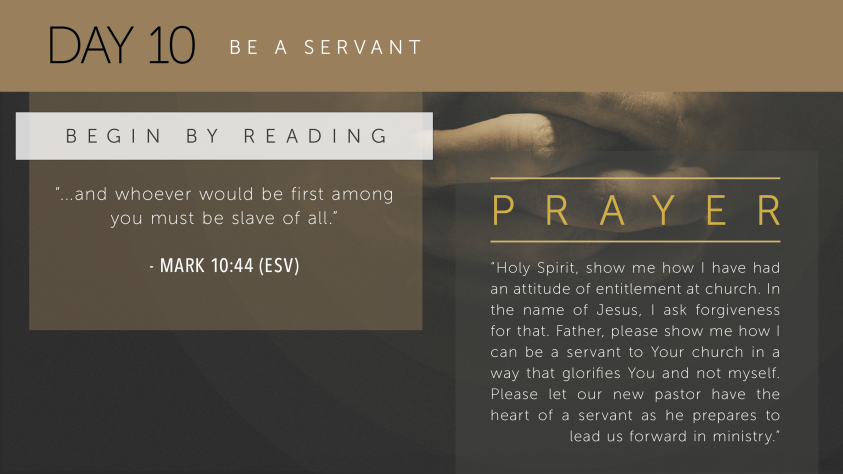 Ever wonder where the napkins come from? We have a church meal and there are napkins on the tables along with plates and cutlery. These things don't just magically appear. Someone has to purchase them and set them out. How about ice? We pass through the line and there are cups of ice ready for beverages to be poured. Someone put ice in those dozens of cups.
In churches today we often notice people with microphones, spot lights, and titles, who move the church in strategic directions. There are also folks who talk but don't really put in much action. However, the backbone of every successful church initiative is a group of servants behind the scenes, doing the work.
Jesus says that many want to be in positions of authority, but He called us to be servants to all. For the church to be healthy, God's people must serve one another. True servants are people who will give their time and energy to impact lives. The value of servanthood cannot be underestimated in the life of the church. Let us never confuse leading with serving others. There is big impact by selfless serving of others, both from the pulpit and behind the scenes.
____________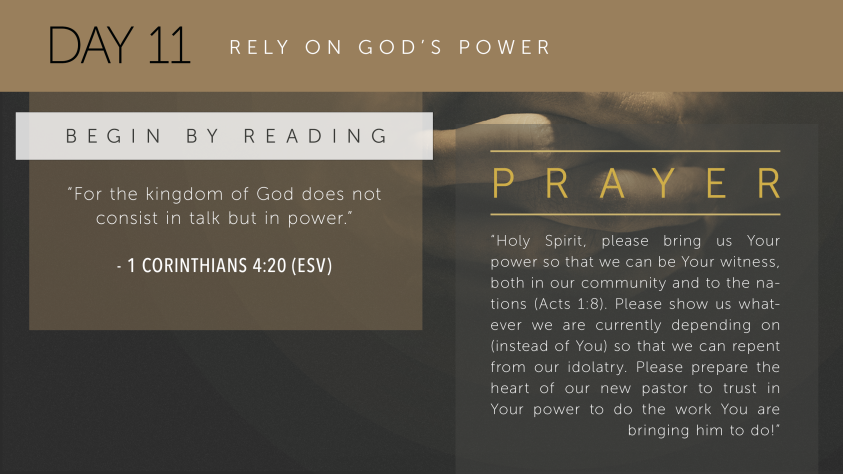 What is powering our church? Many people will answer that question in many different ways. Possible answers might include prayer, preaching, the love of the church family, or the leaders. Like a dead battery, some times a church will plug into things that will never give them the power they need.
Words do not power the Kingdom of God, according to the Bible. Words can be used to motivate people, but those words without actions to back them up have no lasting value. Talk is cheap.
God is all powerful. Theologians call that attribute omnipotence. Without the power that comes from God, our church cannot be healthy and vital. From cover to cover in the Bible God uses His supernatural power to take care of His people, and He still does that exact same thing today! We need to ask ourselves: Are we trusting His power to change people and our church? Is our church currently relying on God's power or our own? There is no other power source greater than God Himself. Is the Holy Spirit moving in our church?
____________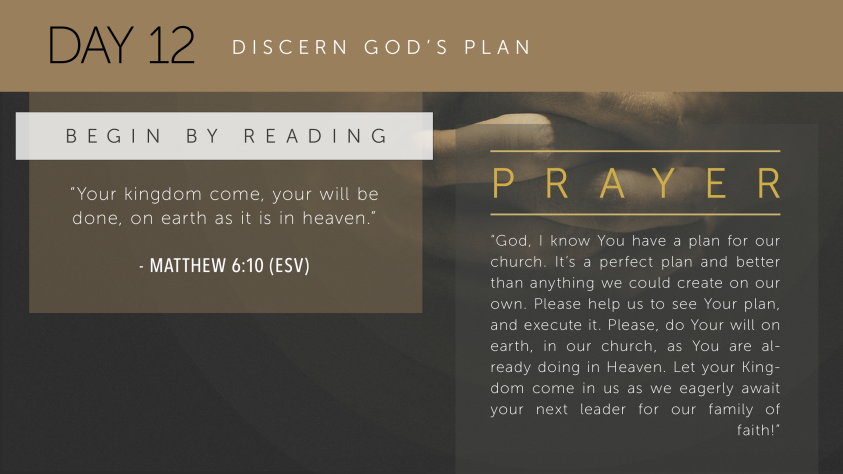 Jesus' disciples asked him to teach them to pray. Each portion of these verses give an important aspect of prayer. In vs 10, we are reminded that God has a plan for His Kingdom coming to earth. Because our church is part of His Kingdom, he has a plan for us too. His desire is that neighborhoods, communities, cities, and ultimately the world be penetrated by the gospel as His Kingdom spreads. The familiar phrase, "Your Kingdom come" is a powerful prayer where we pray for God to work in and through our church to extend His Kingdom to where the Kingdom is not.
When God views our church, He sees its potential. God is looking at what our church should be in the future. He envisions what it can be. God loves our church so much that He doesn't want us to remain where and as we are today.
When we pray, "Thy will be done on earth as it is in heaven," we are asking God to show us and act in us to produce the vision that He has for our church and the community around us. God reveals His desired next steps for us through prayer and Bible study. Especially during a time of pastoral transition, the voice we need to hear above all others is the voice of God through His Word and prayer.
____________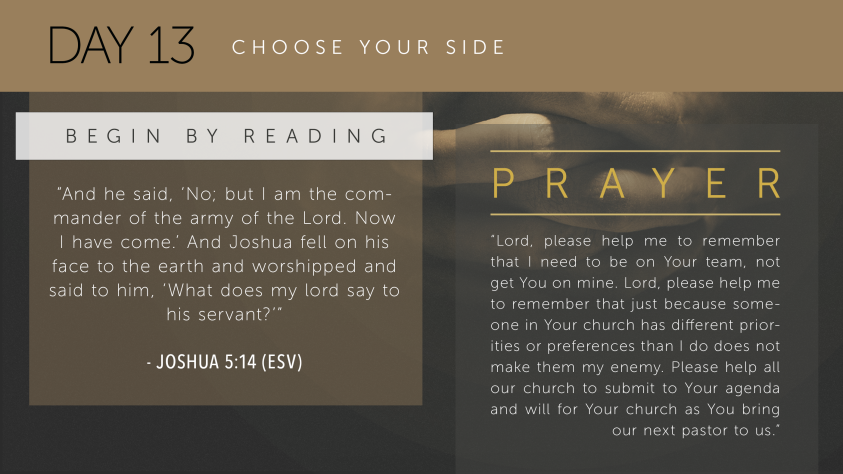 As Joshua was preparing to go into battle, he found himself standing in front of a mighty warrior with sword drawn. He asked the warrior if he was for Joshua's army or for his enemy. The warrior reasoned that he was neither for them nor for their enemy, because he was the Commander of the LORD's Army. Joshua wanted to make sure the Warrior was on his side, but in the end the Warrior wanted to make sure Joshua was on God's side. Joshua's final response was to bow down and worship the Warrior.
In any time of transition, if we are not careful, we can begin to choose sides in our church. We begin to ask God to get on our side. We want God to be for us and not our enemy. We have a vision for the future and a path forward, and it's easy to see anyone not on board with that vision as an enemy. We have to make sure we're in line with the Lord's will. Instead of trying to get God on our side, let's make sure we are on His side. We know that we are with God when our desires for His church match His will in Scripture, when our actions and attitudes reflect Christ-like character, and when our agenda and priorities reflect Christ's mandate to make disciples and reach the nations.
____________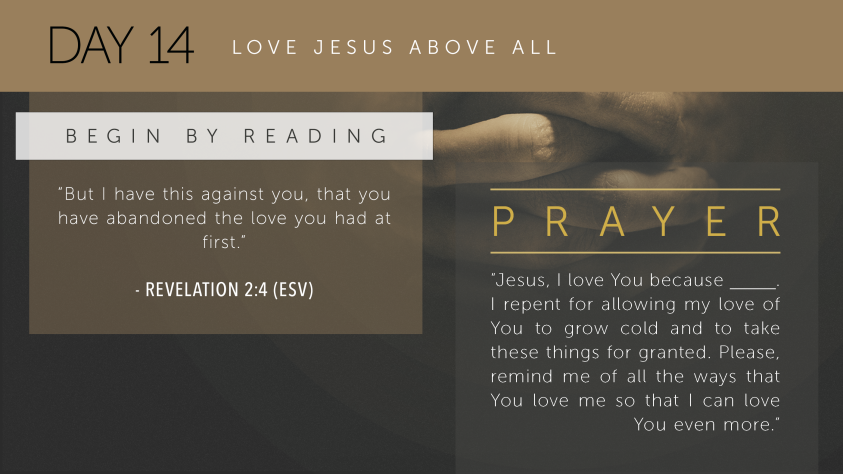 "Oh, how I love Jesus, because he first loved me!" is a refrain from a great hymn of the past. It is a beautiful offering of true worship, when sung from a pure heart. Our love for Jesus is solely based upon His love for us. It should be the motivating factor for our worship. The more we understand His love for us, the more love we have for Him, and the more deeply we worship Him.
On the outside the Church at Ephesus appeared to be a wonderful church. Jesus noted they were hard working, faithful enduring, walking in a worthy manner, and had doctrinal integrity. The problem was these works were performed out of duty, rather than love for their King. The Ephesians needed revival even though they thought everything was going well. They were close to losing the fire God had placed in them.
Many churches are running themselves into exhaustion trying to maintain a schedule of church programming, while seeing few disciples made. They don't cultivate a love for Jesus in this flurry of Christian activity. They need renewal in their hearts, and they need a renewal of love for Jesus. They need to heed the words of Christ, "Remember therefore from where you have fallen; repent, and do the works you did at first." (Rev. 2:5a)
Is my love for Jesus my motivation for my work for Him?
____________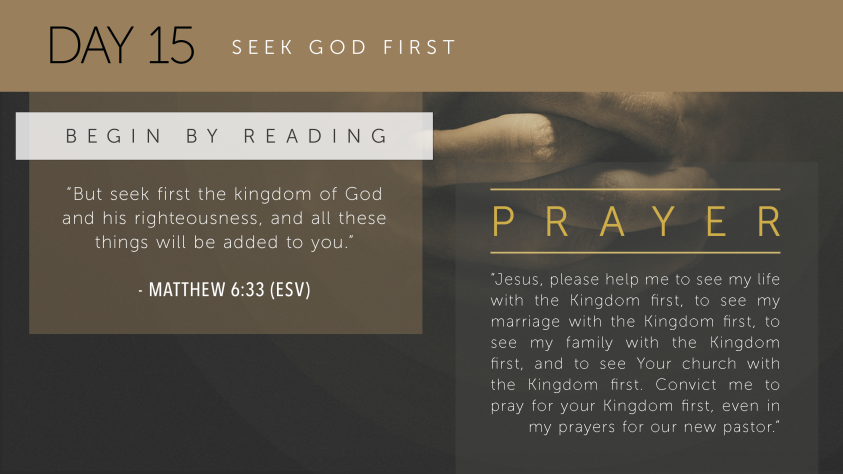 There are certain things in our life that will be indicators of our priorities: A bank statement, a day planner, or a church calendar are all such indicators. When our priorities are misplaced, it's likely to lead to hurt in our lives, marriages, families, and churches. The followers of Jesus have been given a promise to resolve this, but it's conditional. If the people of God will seek the Kingdom of Heaven above all else, then we will lack for nothing. That's the best guarantee out there! If we see unmet needs in our church, then maybe we should examine our priorities to see if we are seeking God's Kingdom or our own.
Seeking God first means that we are dependent, desperate, and dedicated to him. Are we depending on our own strength and wisdom? Are we desperate enough to make the changes God is calling us to make? Are we dedicated to God for the long haul even when it gets even harder than it is right now?
As we consider our lives, marriages, families, and church, are we seeking God first? What decisions that need to be made in the immediate future need to be reconsidered in light of the Kingdom of God being first?
____________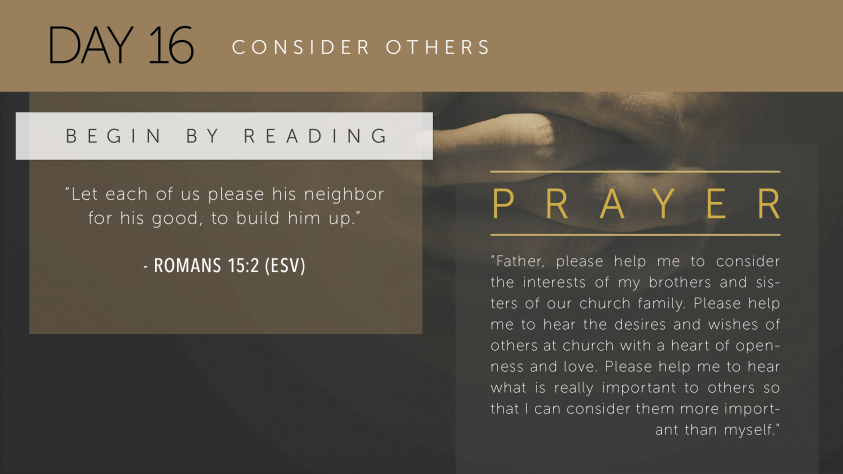 Because we all belong to God through faith in Jesus, our church is the family of God. Each of us has an opinion about what we would like to see in our church and in the new pastor. When these opinions clash, or when some people get their way and others do not, trouble will arise.
Paul tells us in Romans 15:1-2 to make it our goal to please others in the church. When individual members of a church gather around a shared vision and mission of a church rather than their own preferences, then there will be much less problems. If we ask others what they would like to see happen in the church and why they desire those particular ministries or programs to have a priority, then we are more likely to cooperate with each other. When we lovingly consider the needs and desires of other members we are more likely to experience peace in our church.
In what ways am I seeking to promote the interests of others in our church?'
____________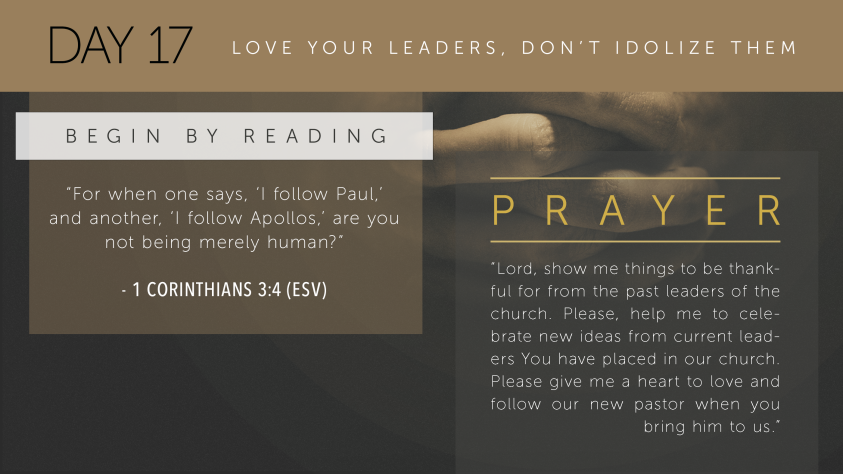 God had used several leaders in the history of the Church at Corinth, and that was causing divisions in the church. They were picking sides based on loyalty to past leaders. Paul challenged them to put away their favoritism.
"Brother so-and-so didn't do it that way!" How many times has a new pastor heard similar comparisons to his predecessor? These comparisons can make life difficult for a new pastor and are often unhelpful in the life of the church. It is appropriate to honor past leaders. However, it's a mistake to relegate their methodology as the only way God will work in a church, and elevate their leadership to the level of deity.
As God places Christ-like leaders in our churches today, we would do well to follow them, while still honoring leaders of the past. What is one thing you can do to honor your incoming pastor when God brings him to the church?
____________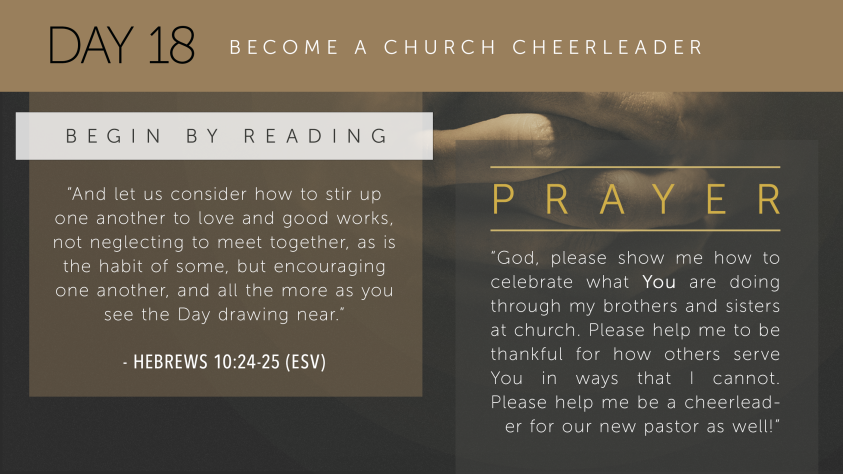 Cheerleaders have an important role to play in a victory. They get fans motivated to celebrate the team. In football, fans can become so loud it makes it difficult for the opponents to communicate with one another. The cheerleaders in basketball get the "sixth man" into the game. In a church we each play two roles, player and fan. There are times when our role is to play in the game, serving in a way that God has uniquely created and gifted us to do. Other times we are a fan, cheering on others who serve in different ways from ourselves.
When we are cheering for our brothers and sisters, we aren't just cheering them on, but we are actually celebrating how God is working via their gifting and service. When we say, "Amen!", (Which means "Truth!") as the pastor is preaching, we are cheering the truth God is proclaiming through the preacher. When we sing joyfully, we are cheering on the team as we worship God together. We are encouraging the team when we participate and celebrate the church serving each other and the community. The positive attitude of one person can make a difference as that individual vocalizes his or her support of the team in the hallways.
What has happened recently or is coming up that I can verbally celebrate in the church?
____________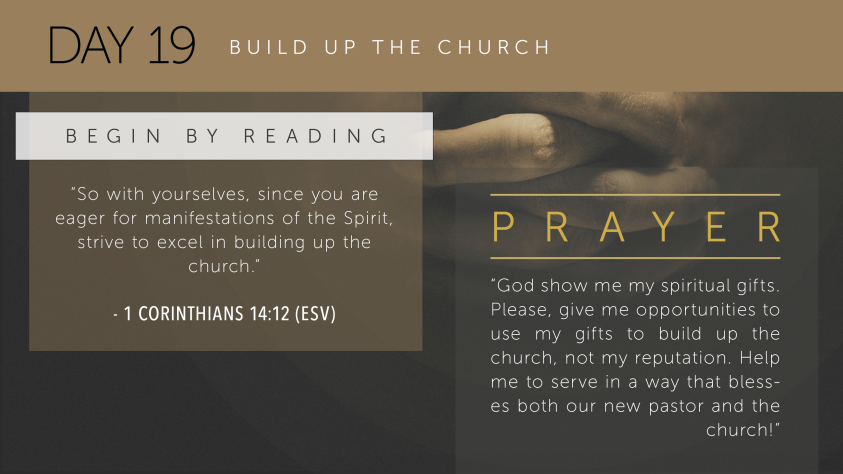 There were members of the church of Corinth who were seeking to have certain spiritual gifts in order to feel important. They were young in their faith. Paul reminds them spiritual gifts are given to build up the entire Body of Christ.
Have I discovered my spiritual gift(s)?
People of the church failing to use their gift(s) will also make the church unhealthy. How am I using my spiritual gifts to build up the Family of God? God has given each of us our gifts, therefore He expects us to use them! Almost any pastor will say they need more workers in the church. If we are each using our gifts like God intends, then why would the church still need more workers? A way that we can bless the pastor of our church is to be joyfully serving and using the gift(s) that God has given to us to build up the church.
A healthy church is one that is using the spiritual gifts of the members to build up the Body of Christ and reach their community for Christ.
____________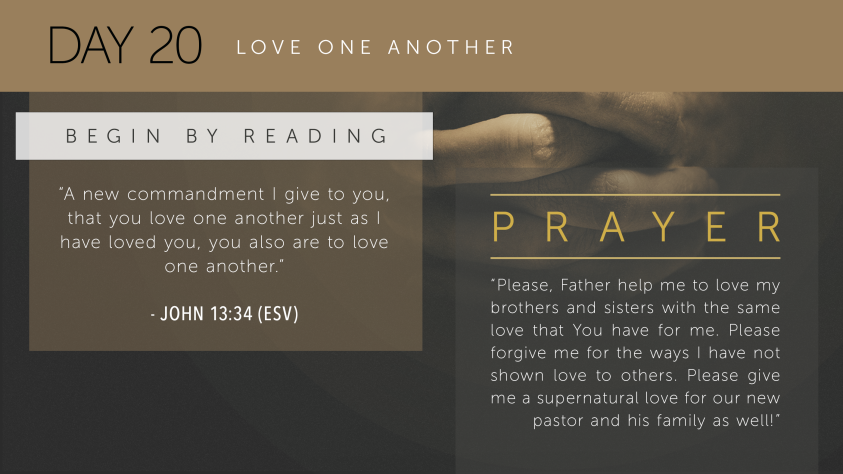 As Jesus was facing crucifixion the following day, He gave His disciples final instructions on how to live their lives as citizens of the Kingdom of God. This long discourse begins with the challenge to love each other. Because it's first in the discourse, it is foundation for all that will follow.
Love and unity are critical to ongoing health in a church. People will know that we are disciples of Jesus by our love for one another. When a church lacks genuine love for one another, and instead chooses division, decline will soon follow. To reverse that trend, it's paramount that a church return to true love for one another.
In his classic The Mark of a Christian, Francis Schaffer states that the love of Christ in the lives of believers is what sets them apart from the world. He concludes that the world has a right to judge the authenticity of Christ's claim to be the Messiah, the Savior, and the Son of God by what they see in the lives of His followers. Are their lives changed by Jesus? Are the lives of those who claim to have been changed by him different from the world? Do they love one another in difficult times?
Do I live in unity and love with other people in my church?
____________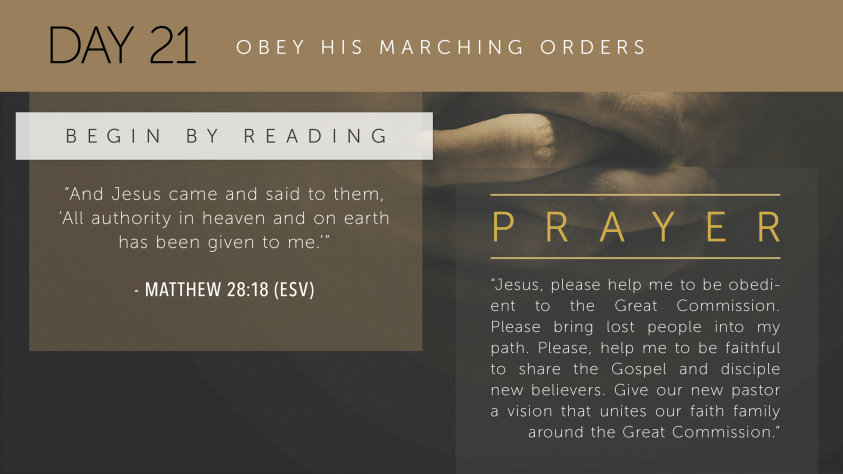 In military circles, when a high-ranking officer speaks, people listen and follow directions. As Jesus was ascending to Heaven, He gave the church our marching orders. He is the Commander-in-Chief of the Army of the LORD. He called us to action. The plan is not complicated: start invading enemy territory at home and keep spreading out wider and wider until we get to the ends of the earth. The Great Commission is the mission mandate for every church, regardless of location, structure, size, age, or style.
As we are going, Jesus doesn't desire for us to simply get someone to make a confession of intellectual assent to a Christian mantra. He expects us to make disciples who obey all that He commanded. Is the church intentionally making disciples? What is the church's missions strategy for reaching the nations? Our Commander-in-Chief has not sent us into battle alone; He promised to march along side of us.
We have been deployed on a mission that will change lives, marriages, families, churches, communities, and even nations. Let's not disobey our Commander's marching orders.
____________