Welcome to FBCPS
If it's your first time at FBCPS, welcome! You are our honored guest.
Here you will discover a warm group of real people dedicated to following our Lord and Savior, Jesus Christ. As you're walking to the building, our greeter team will meet you and show you where to find the Sanctuary, Christian Life Center, restrooms, and children's ministry area. If you need anything during your visit, just ask anyone with a blue FBCPS shirt on. We're a friendly bunch, and we'd love to serve you and help you feel as comfortable as possible.
Service Times
Classic Worship - Sundays at 9:30am
Join us in the Sanctuary as we sing along with piano, organ, and the FBCPS Choir.
Modern Worship - Sundays at 11:00am
An energized time of worship led by our worship band in the Christian Life Center (CLC).
What to Expect
Our Mission
For My Kids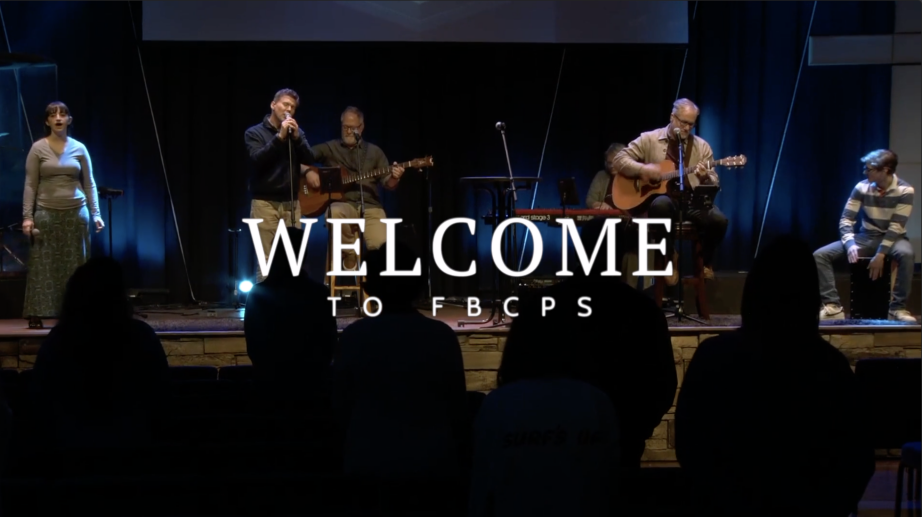 At FBCPS you will discover a warm group of real people dedicated to following our Lord and Savior, Jesus Christ. From the moment you walk up to the building you can expect…
A Warm Greeting
A heartfelt greeting is part of what makes a church a church. No matter what question you might have just ask. Our greeters are there to help you get settled and comfortable.
Conversation
Expect to be noticed. Expect people to say something like, "Hi, we haven't met before, is this your first time?". Expect for people to reach out to you in love.
Worship
We love music, all kinds of music. From hymns to modern worship, we use music to show our Lord how much we love and honor Him.
Truth
The Bible tells us to speak the truth in love. The Bible is God's truth. At FBCPS we seek to explore, understand and apply God's truth to our lives at every level in a spirit of love. You will find a growing variety of resources to help you grow in God's truth.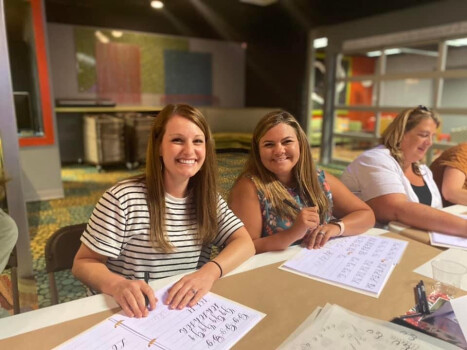 Here are some frequently asked questions:
First Baptist Church is located in the heart of historic downtown Powder Springs. 4330 North Avenue, Powder Springs GA 30127
When you arrive on campus, look for the people in blue shirts with the church logo on them. This is our greeter ministry. They are more than happy to help you find your way around campus and get you to where you need to be.
Many visitor parking spaces are located in the main parking lot, which, if you are facing the church, is to the left of it. Shuttle services are available if you park away from the sanctuary in the main parking lot. Shuttles run 15 minutes prior and 10 minutes after listed service times.
Dress comfortably. While some attendees do wear their "Sunday best," most wear casual and comfortable clothes on Sunday morning. Don't worry about what you wear--just come prepared to have a wonderful time of worship in a relaxed atmosphere!
A Bible will help you to follow along in worship and in Connection Groups. If you have a Bible, bring it with you to church. Our Pastor, Mike Woods, will always refer to the Bible during his messages. If you don't have a Bible, or forgot to bring your Bible, Bibles are available in the Sanctuary pews.
There are two Sunday morning services at 9:30 am (Classic Worship), and 11:00 am (Modern Worship). Connection Group hours are at 9:30, and 11:00 am. Plan to arrive fifteen minutes before your desired worship/Bible study time to allow for parking traffic.
First Baptist has excellent preschool and children's ministries. Greeters are just inside our entrances before every service and our "blue shirt" volunteers will assist you in getting your children to their class or department. Connection Group classes are offered for all ages. Your child will be checked-in by our staff in the Rutledge Building on the first floor. Our secure classrooms will require you to register before leaving your child with us and you will be assigned a pager so that you can be contacted while on our campus.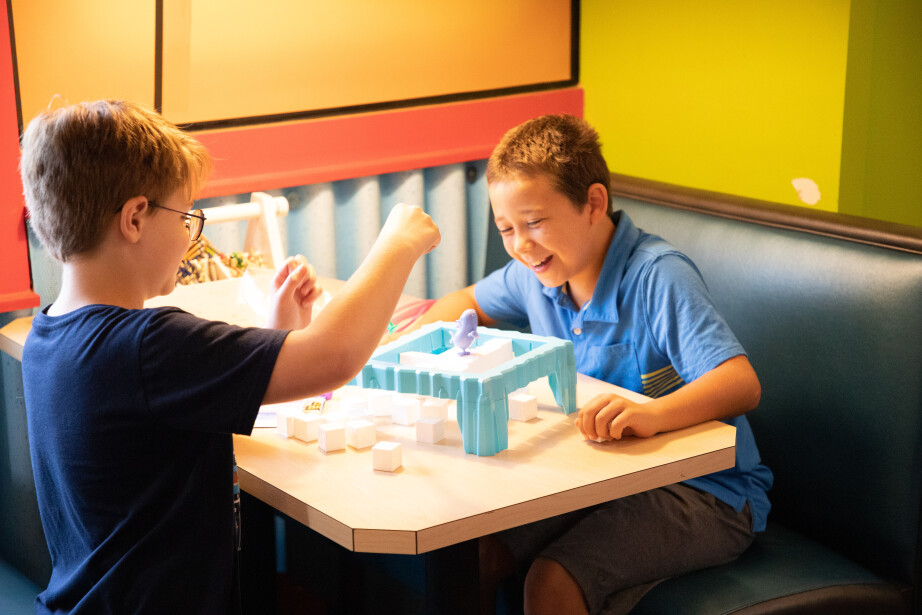 Our Mission
We exist to lead people toward the Savior, Jesus Christ. We want people to Believe in the saving grace of Jesus, to Grow in their relationship and walk with Him, to Love those around them and to Serve for the cause of Christ.
Believe
We exist to lead people towards the Savior Jesus Christ, God's Son. We want people to BELIEVE in the saving grace of Jesus, to GROW in their relationship and walk with Him, to LOVE those around them, and SERVE for the cause of Christ.
Please feel free to contact one of our Ministers who will meet with you and explain the simple truth about how you can start your walk of faith with Jesus Christ and join other believers at First Baptist Church.
If you are already a baptized believer, we encourage you as well to talk with one of our Minsters and see how to join us in reaching people for Christ.
What We Believe Basics of Belonging Our Staff
Grow
After you connect with our church by membership, your next step is to begin to GROW as a follower of Christ. You begin the lifelong process of becoming a disciple of Jesus. Our desire is for you to build a strong biblical foundation that will help you and give you wisdom and direction through the ups and downs of life. It is up to you to own your growth. So, take the initiative to explore, learn, study, and grow along with other believers in this new life.
Adults of all ages have a special place to find friends, have fun, build relationships, and learn the truths of God's word in the Bible study ministry of FBCPS. This is the connection point where a new journey of faith can begin for you and your family. These Connection Groups are held during both the 9:30 and 11:00 hours for all ages from babies, through adults. If you would like to know more about the different connection groups we have, check out their pages and feel free to contact the corresponding minister if you have further questions.
Adult Connection Groups Worship
Preschool and Children Youth
Love
After you connect and as you grow in Christ, you put into practice, among many principles and words of wisdom, these two important commands that Jesus asked of us.
Jesus also shared with us how we can love our neighbor. "Love each other. Just as I have loved you, you should love each other. Your love for one another will prove to the world that you are my disciples." John 13:34-35
We believe that one cannot be the disciple God wants unless there is love for God and a love for others in one's heart.
"You must love the Lord your God with all your heart, all your soul, and all your mind. This is the first and greatest commandment. A second is equally important. Love your neighbor as yourself."

Matthew 22:37-40
Serve
God has shaped us with different gifts, abilities, skills, and experiences. Every Christian should be serving in some ministry area of the church. A variety of ministry opportunities are available for you to get involved and serve.
Just as our bodies have many parts and each part has a specific and special function, so it is with Christ's body of believers: the church. We are many parts of one body, and we all need each other to function properly (1 Corinthians 12:27).
We were created for ministry (Ephesians 2:10), and called to ministry (Galatians 1:5). The next step in your walk is to use those gifts and talents in and through your church.
For my Kids
Sunday Morning Kid's Worship is for 1st through 3rd graders every Sunday (except the 4th Sunday of each month and the month of July). Elevate curriculum is used which is biblically based, activity driven, fun, and exciting!
Sunday Morning Kid's Worship is for 1st through 3rd graders every Sunday (except the 4th Sunday of each month and the month of July). Elevate curriculum is used which is biblically based, activity driven, fun, and exciting!